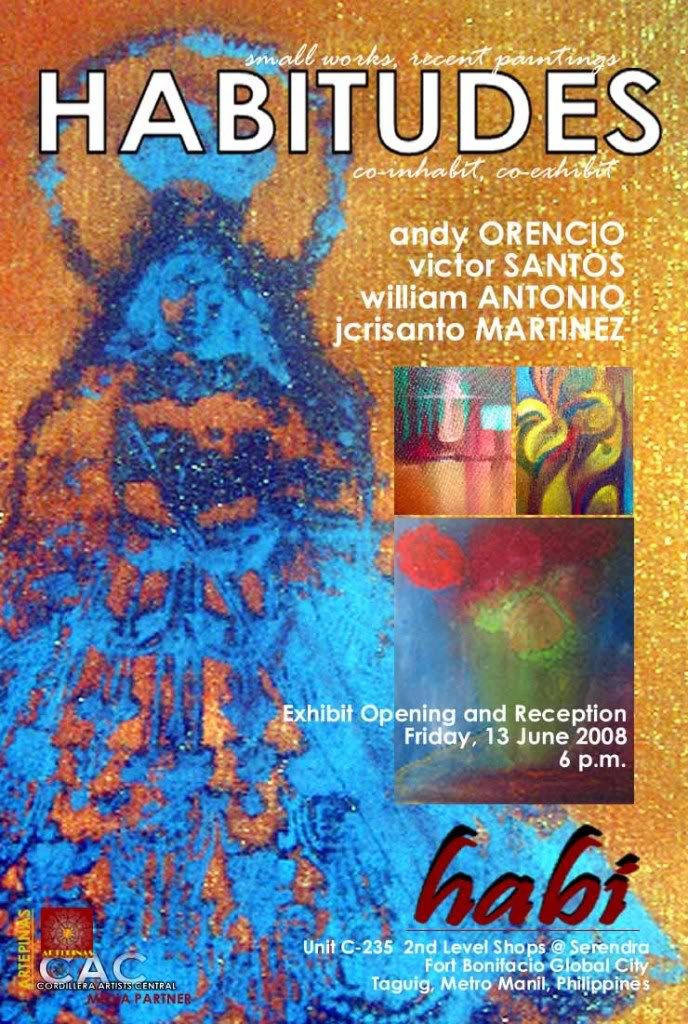 HABITUDES
A Group Exhibit




Habi Home Interiors Gallery presents HABITUDES, four-man art exhibit of small works by Andy Orencio, Victor Santos, William Antonio and JCrisanto Martinez. The exhibit is a series of wall-bound artworks in mediums of oils, acrylics, prints (serigraph), and mixed media.

The title takes on the root word "habi" signifying the venue. Literally, "habitude" implies a tendency to act in a particular way. But in the context of current terminology, "habitude" may be a coined word to describe an attitude of co-existence. Habitude may be the appropriate term to describe the continued camaraderie or "brotherhood" of this group of artists who have accustomed themselves of working together. Thus' "habitude" may connote "co-inhabit" and "co-exhibit" Clearly, habitude fosters collaboration.

In Habitudes, Andy Orencio showcases a series of his recent oils on canvas abstractions mounted on burlap. Orencio's series skillfully employs forms and colors in exceptional compositions. The outcome of his small masterpieces is visual poetry.

Victor Santos continues his relentless passion for old filipiniana. Adding up to his body of works are serigraph prints done in oil. The opulence of history remains reflected in Santos' siennas, umbers and ochres.

William Antonio's floral abstractions are a variance from the "be beautiful" concept of flowers. Rather, it evokes the vulnerability of such in the current ecological set-up. The bold palette knife strokes and vibrantly-hued corollas are suggestive to an imperative call for a positive response to environment concerns that could one day obliterate our remaining blossoms.

JCrisanto Martinez presents a series of small works entitled "Drops of Jupiter and Conscious Thought." All achieved employing acrylics/mixed media on burlap; the works mainly demonstrate the artist's attempt to understand and evaluate his personal internal and external world. The works have their own suggestive features that streams from the artist's own search for significance within the sphere of abstraction.

HABITUDES opens on Friday, June 13, 2008, 6:00 pm at the Habi Home Interiors located at Unit C-235 2nd Level Shops @ Serendra, Fort Bonifacio Global City, Taguig, Metro Manila.