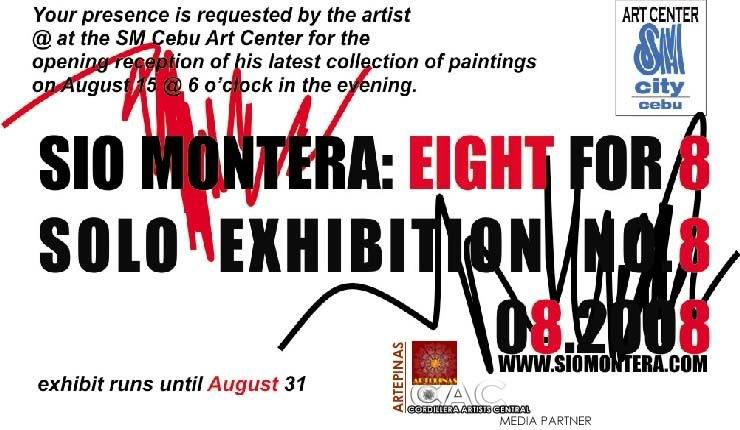 Sio Montera's Eight Solo Show @ Art Center, Cebu
Cebu-based abstractionist Sio Montera unveils his latest collection of paintings in the Art Center of SM City Cebu on Friday, August 15, 2008. 'Eight for Eight' as the exhibit's title would suggest is the artist's eight solo exhibition of contemporary art and will run from August 16-30, 2008.
The artist has an MFA degree from UP Diliman where his training taught him to constantly explore the different possibilities that his materials, tools, and techniques present to him in the creative process. The artist has since found his calling in the non-figurative approach to art. Sio Montera finds the creation of non-objective forms a complicated mental and physical process wherein every piece of work is a personal struggle for one's creativity to come out.
In this latest exhibition, Sio Montera uses his works as mirrors of society. Each work reflects the artist's sentiments of what is happening around him. In a current situation where the high cost of basic commodities has dampened the cheerful spirit of the people, the artist has found solace in his art by depicting life's daily struggles as well as the simple joys it brings.
Sio Montera is currently a member of the Executive Council of the Committee on Visual Arts of the National Commission for Culture and Arts. He is both an officer of the Tuslob-Buwa Artists Group and Pusod, The Open Organization of Cebu Visual Artists Inc. He is a full-time Fine Arts faculty of U.P. Cebu and is the research director and author of the book "The Jose Joya Awards 1977-2006: The U.P. Cebu Permanent Art Collection". He is also the Coordinator for the VISAYAS ISLANDS VISUAL ARTISTS (VIVA) Exhibit-Conference scheduled in Cebu this Novemebr 27-29, 2008. The artist was recently awarded the Chancellor's Award for most outstanding achievement in creative work by the University of the Philippines Visayas.
Eight for Eight: Sio Montera's eight solo-exhibition is open to the general public daily from 10am-9pm at the Art Center of SM City Cebu. For information contact 2319851 or log on to www.siomontera.com