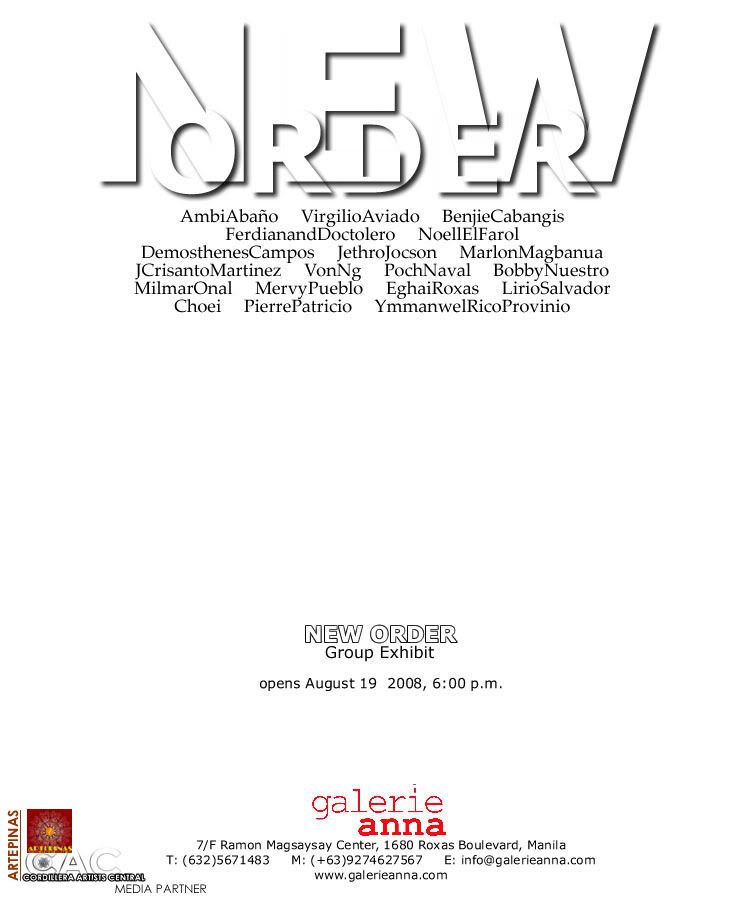 A New Order

The world exists in a manner of chaos and order. An action is equally reacted to either complement or destroy. The creations of things though start naturally as bedlam of ideas, thoughts or energy converging into a single conclave forming into a new order. Its focus is balance like a duality of concepts, of black and white, of the natural and the unnatural. A cycle that continues to bridge the past to the future with the present being the bastion of things to come.

At present, Galerie Anna intends to pursue art in a bold way by featuring a mix of the country's leading and young visual artists. The "New Order" show is a group art exhibit featuring 20 artists namely Ambi Abaño, Virgilio Aviado, Benjie Cabangis, Ferdinand Doctolero, Noell EL Farol, Jethro Jocson, Marlon Magbanua, JCrisanto Martinez, Von Ng, Bobby Nuestro, Poch Naval, Milmar Onal, Mervy Pueblo, Eghai Roxas, Lirio Salvador, Choie, Pierre Patricio, Demosthenes Campos, Hermi Santo and Ymmanwel Rico Provinio.

With different backgrounds, style and ideology, each artist will present a number of nonrepresentational artworks highlighting contemporary world view. The exhibition thus intends to present art universally, challenging the perception of a mere décor into something that is highly regarded, keen to composition and dedicated to its form as fine art.

Galerie Anna aims to continually promote Philippine Art and the "New Order" show is a package that unwraps of what we anticipate in the future. A spark that create, make and endure in our local art scene.

The New Order will open this 19th of August 2008 at 6 in the evening and run until September 12. For more information and queries about the gallery and the exhibit, you can log on to www.galerieanna.com, contact the landline number at (632) 5679483, or email at info@galerieanna.com.


~ o ~