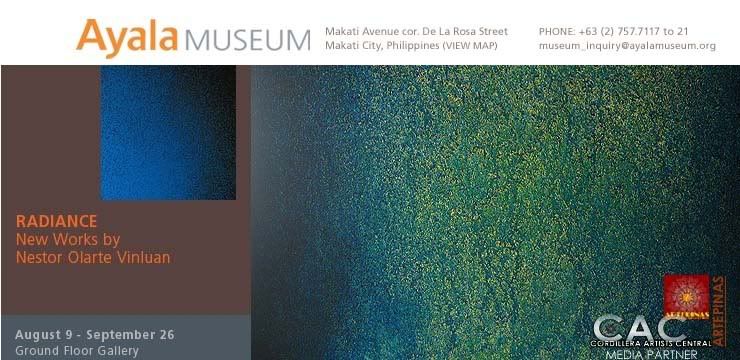 Radiance: New Works by Nestor Olarte Vinluan consists of large-scale paintings, spheres, and installation works. Nature was and still is the matrix of the context and composition of these new works. Techniques and appearances of past work persist. Vinluan has been presenting works as installation since 1986 and the spheres that punctuate this exhibition had been an ongoing theme beginning 1995.

In preparing for this twentieth solo exhibition, his second at the Ayala Museum, he affirms that "…I continue to get inspiration from the natural world…of earth and sky, leaf, and rock forms…I try to look at these forms' textures and colors. Distilling these in mind, I translate them on canvas and (they) become abstract."

Radiance: New Works by Nestor Olarte Vinluan runs from 9 August - 26 September 2008.

A gallery talk with Vinluan will be held on 6 September 2008.

Museum admission fee includes lecture. Seating reservation is highly encouraged.