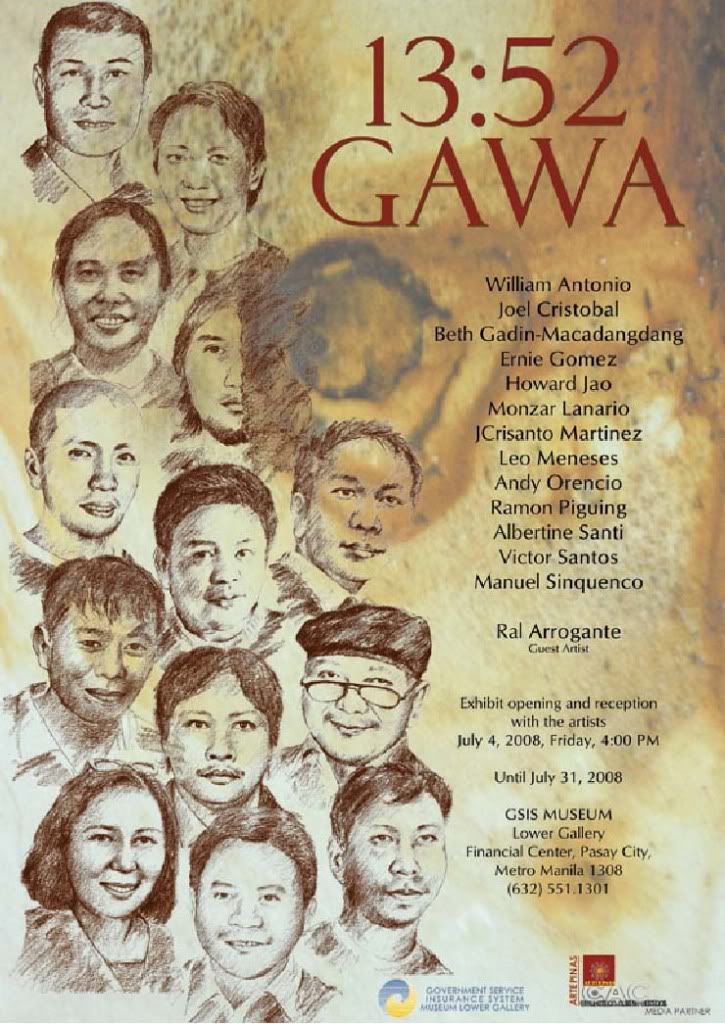 13:52 GAWA



The GSIS Museum Lower Gallery is proud to present 13:52 GAWA; an exhibit that features series of varied format-sized artworks in mediums of oils, acrylics, watercolors, and sculptures. It revolves around the idea of featuring thirteen (13) self-taught artists in one major exhibit; each artist exhibiting a series of four (4) works.

In academics, Self-taught Art refers to art created outside the canon of art history. But in the context of current terminology, Self-taught seems to be the most applicable adjective to describe visual artists working professionally without the formal education and scholastic degree garnered from the academe.

Each of the participating artists desires to continue to be recognized; to rise up; and in the process attempts to acquire experiences as he strives for excellence, and succeed. He continues to gain greater knowledge, develops convictions, principles and a personal creed as he continues to create his body of works. It is the conventional, the stereotype, the general comprehension of art, of his personal intent as an artist, and his personal causes.

The aesthetics of these Self-taught Artists can simultaneously mirror developments in Contemporary Philippine and Modern Art. The customary characterization of art is the cognitive arrangement or assembly of forms, colors and other elements in a way that affects the aesthetic sense. One of the greatest values of 13:52 GAWA is its ability to open doors to a greater understanding of art appreciation, presentation, and curation to students, artists and museum visitors.

This collective series also tries to encourage other Filipino artists to offer different perspective of their creativity and concepts while working under these unique circumstances. In this exhibit, the artists work with varied format-sized multi-media (with the minimum size of 30 inches by 24 inches vertical or horizontal orientation) to convey and capture the contemporary scope.

The artists in the exhibit include Andy Orencio (Antipolo), Victor Santos (Antipolo), William Antonio (Pasig), Ernie Gomez (Baguio), Howard Jao (Tanay), Monsar Lanario (Tanay), Ramon Piguing (Tanay), Manuel Sinquenco (Tanay), Beth Gadin-Macadangdang (Tanay), Albertine Santi (Las Piñas), Joel Cristobal (Baras), Leo Meneses (Pililia) and JCrisanto Martinez (Metro Manila).

The 13:52 GAWA exhibit opening and reception with the artists is scheduled on July 4, 2008, Friday at 4:00 pm and shall run until July 31, 2008. The GSIS Museum Lower Gallery is located at the Financial Center, Cultural Center of the Philippines Complex, Pasay City 1308 Philippines. For inquiries please call Ms. Leslie Fangonil at (632) 551.13.01 or Mr. Joey Martinez at (+63) 922.331.41.08. Online inquiries can be channeled thru info@jcrmartinez.tk or artepinas@gmail.com.