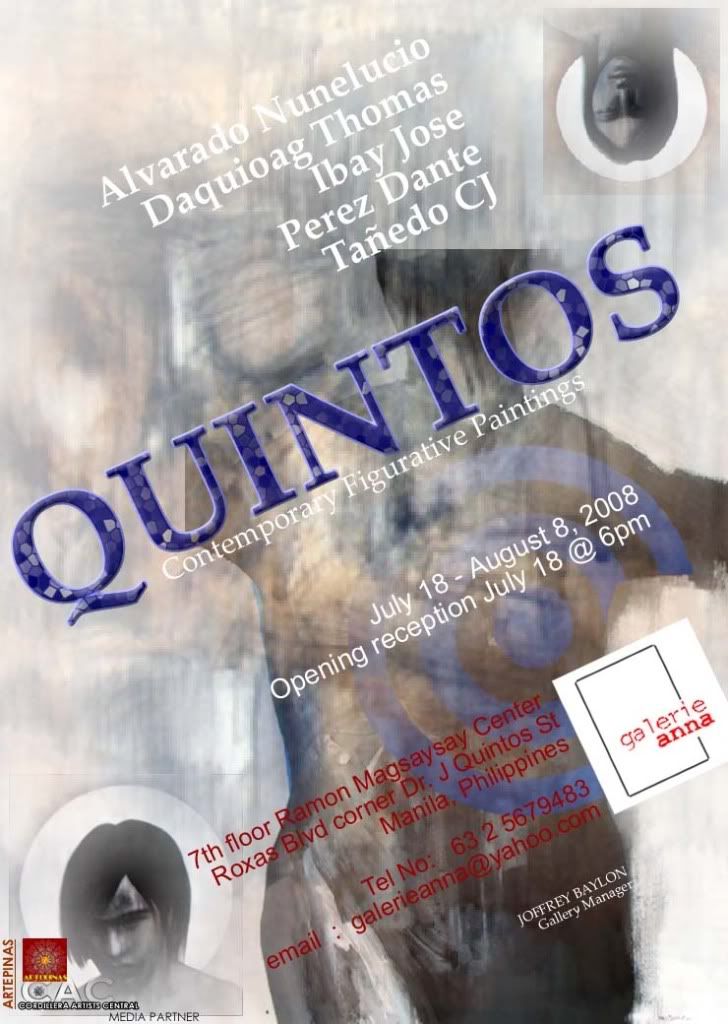 A potent tool for a social realist, ramifications of a portraitist, and a conclave of figural manifestations were all rendered in this group exhibit entitled Quintos. The title refers not just to the street were these arts works are to be displayed but also to the five men namely Nunelucio Alvarado, Thomas Daquiaog, Jose Ibay, Dante Perez, and C.J. Tañedo.

On display at Galerie Anna, the exhibition "Quintos" is a gathering of artist that came together with their own unique way of expressing art and figuring their character of the society.

A compelling work, Nunelucio Alvarado evokes art into his viewers, producing an influential narrative creating a social repercussion to one's belief.

Thomas Daquiaog's canvasses strip off to showcase a hero within. His works glimpse the champion that exists in each individual in fulfilling a unique task in the society.
Jose Ibay's expressionist portraits stimulate the mystery that surrounds his art. Striking where human expression is foremost, spotlighting of the human face.

Dante Perez subsists in articulating a revelation, positioning an ability to interchange meanings or connotations.

Presenting a perplexed reality, CJ Tañedo's reverberates a calling in his character while painting a bleak fragment of disposition that lurks in the recesses of his mind.

Quintos will open on July 18 2008 at 6pm and run till August 8. Galerie Anna is located at the 7th floor of the Ramon Magsaysay Center along Roxas Boulevard cor Dr. J. Quintos St. Manila. For more information call/sms 02 5679483/ 09274627567, email galerieanna@yahoo.com