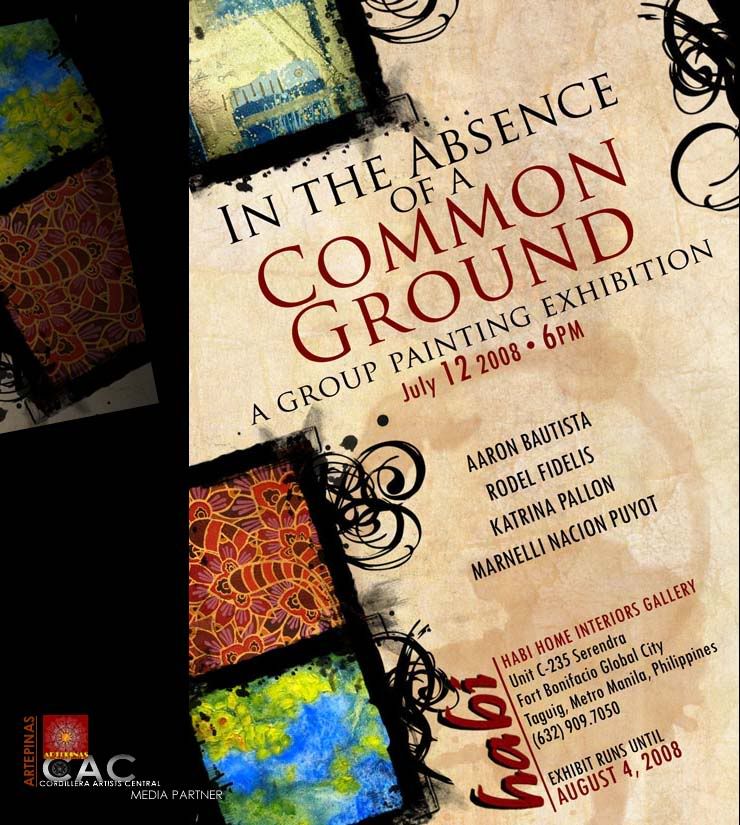 IN THE ABSENCE OF A COMMON GROUND
A GROUP PAINTING EXHIBITION


On July 12, 2008 at 6 in the afternoon, Habi Home Interiors Gallery, with its charming interior and intimate ambiance, proudly opens its door to the public as paintings in various media grace its vibrant-hued four walls. Artists AARON BAUTISTA, RODEL FIDELIS, KATRINA PALLON, and MARNELLI PUYOT collaborate in a group exhibit entitled "In The Absence of a Common Ground."

In this open-themed exhibit, the artists were given the freedom to indulge in his/her chosen subject and/or theme with a very distinct feeling and experience resonating from each collaborating artist's collection. Thus, in "In the Absence of a Common Ground," one is treated to four unique voices communicated through the different perspectives of each collection. It can, therefore, be said that this is not just a single exhibit but four simultaneous exhibits in unison.

AARON BAUTISTA is a professional painter and art teacher from Angono. Working mostly with mixed media on canvas, he has established a style in abstractionism which currently comprises his body of works. Aside from being a member of Angono Ateliers and Neo Angono Artists Collective Inc., as well as being part of numerous group exhibits, Bautista has had a total of 7 one-man shows to date. Mounting a collection of his colourful canvasses, he once more adorns the walls of Habi Gallery with his vibrant palette of colors and lines, and layers of undulating paint. With his easily perceivable forms, daringly-manipulated spaces, and exuberant play of colours that seemingly burst out of his stretched canvasses, Bautista, yet again, displays and allows the beholder to appreciate the non-objectivity of his brilliant abstractionism.

RODEL FIDELIS' foray with the visual arts started out by being an assistant to master painter Mario Parial. Keen in learning more about composition, lines, and color, Fidelis juggled his thoughts from making perfect stretchers and priming canvasses to working on actual paint – doing collages. He also learned the fine art of framing. After his stint with Parial, Fidelis moved on to work for the Heritage Gallery. To date, Fidelis remains to be a framer by trade to many contemporary as well as up-and-coming artists. In this exhibit, Fidelis showcases a series of mystical landscapes in oil on canvas.

KATRINA PALLON is a visual artist working with the medium of paint, photography, and masks. She also works as a freelance graphic designer and writer, participates in spoken word events, and sings for an independent rock band. Highly influenced by the intricacies of French art nouveau, Asian textile prints and patterns, Venetian masks, flora, circuses, and carnivals, Pallon's artistic works attest to her love for elaborate designs and her knack for romanticizing even the simplest of subjects. Her works are mostly about women, of dark and melancholic, sometimes mystical figures and tales, of the fleeting beauty of things, of masks and mystery – oftentimes using warm, vivid tones to translate these images into paintings and/or photographs. In "In The Absence of a Common Ground," Pallon fuses ornate Pan-Asian motifs, exquisite blooms, and female figures to present a collection of images and stories of women in acrylics, ink, and water colour.

MARNELLI NACION PUYOT once heard from a friend that humans choose to lead one of the two kinds of life: a life of meaning, constantly obsessing on the future and masturbating on the past, and; a life of happiness, which is concerned only with the present. Since then, she has asked herself everyday which life she would choose if ever the time for that should come. She is always conscious of the fact, perhaps even only on the personal level, that, rather intuitively, objects can be beautiful without having to have meaning, this quality itself is reason for their beauty. Ironically with this guiding principle her works explore ideas behind the nature of existence, and the capacity of the human intellect to hegemonize the world and everything contained in it. Marnelli is a 3rd year Art History Major at the UP College of Fine Arts. She is 21 years old and this is a first for her to exhibit her works. She also plays the oboe.

"In The Absence of a Common Ground" is scheduled to run until August 4, 2008. In between the opening and closing dates, one may opt to visit Habi Gallery at any day of the week as it is open daily from 12 noon to 8 in the evening. Habi Home Interiors Gallery is located at Unit C-235 Serendra, Fort Bonifacio Global City, Taguig, Metro Manila, Philippines. For inquiries and more information, you may call (632) 909.7050 or email artepinas@gmail.com.