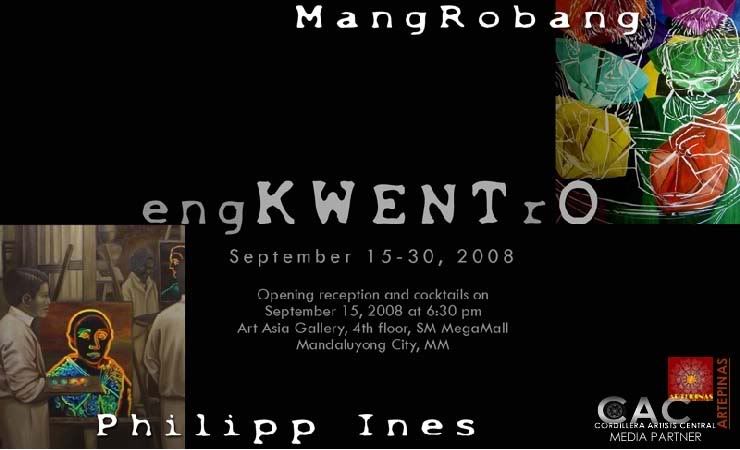 "e n g K W E N T r O "
a two- man exhibition of recent paintings by
MangRobang and Philipp Ines

on September 16, Tuesday,
6:30 pm at the Art Asia Gallery
fourth level of SM Megamall.

Josue Mangrobang has developed a distinctive style as a painter, producing canvases filled with double images": detailed compositions rendered through transparencies, layerings, and interplays of positive and negative space. Mangrobang's works combine naturalism and stylization, the conceptual and the pictorial. His subjects and themes often revolve community and fishing scenes which comprise his environment as a resident of the flood-prone and coastal city ofMalabon. A multi-awarded painter, Mangrobang is a national finalist in the 2008 Philip Morris Philippines Art Awards. He was also cited as a finalist in the water media category of the 2002 Metrobank Young Painter Competition and the 2000 and 1999 Shell National Students Mangrobang holds a Bachelor of Fine Arts (major in Painting) from the University of the Philippines College of Fine Arts in Diliman. He is currently pursuing a double degree, major in Art History from the same institution.

Philipp Ines is currently exploring a transitional style combining realism with the visual culture of mainstream media and art production: where stylized motifs derived from technology, special effects, and machines merge scenes from the local and the historical. Since the start of 2008, Ines has produced a series of paintings simulating and integrating the vivid visual effects of neon laser lights used in the mainstream media and advertising industry. Ines juxtaposes these effects against a backdrop of monochromatic vignettes from the artist's studio or the streets, fusing nostalgia and novelty into a single work. Ines studied Painting at the University of the Philippines College of Fine Arts in Diliman, Quezon City. He is a finalist at the 1999 Shell National Student Art competition. Ines has been working as an art director at a major TV network since 2003.