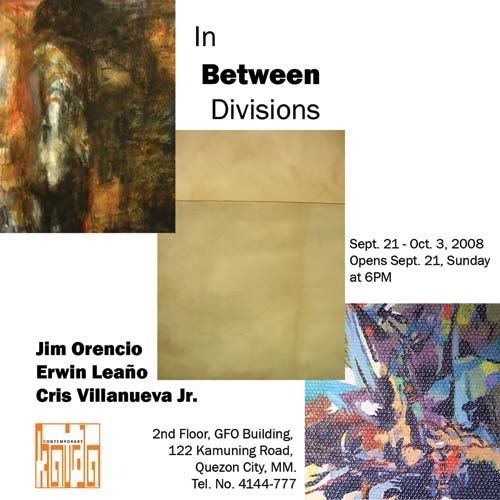 Parial, Leaňo, Orencio, and Villanueva
until 3 October 2008
KAIDA GALLERY



On view from 21 September to 3 October 2008 at Kaida Gallery in Quezon City are two back-to-back shows featuring new works by Philippine visual artists Erwin Leaňo, Jim Orencio, and Cris Villanueva and a solo exhibition of Mikel Parial. Kaida Gallery is located at the 2nd Floor, GFO Building, 122 Kamuning Road, Quezon City, Philippines 1102.

In Between Divisions, a three-man show by Antipolo-based artists Erwin Leaňo, Jim Orencio and Cris Villanueva, will be on view at Kaida's Main Gallery. Painter, printmaker and photographer Mikel Parial holds a one-man show of recent works at Kaida Gallery's Gray Wall.

The two shows will open simultaneously on the 21st of September (Sunday), 6:00 p.m. The exhibits will be on view at the gallery until the 3rd of October.

Kaida Gallery is an art space devoted to showcasing works by contemporary Philippine artists. Established in 2006 in Quezon City, Kaida Gallery features young, dedicated, and emerging painters and sculptors as well as supporting collaborations between them and established names in Philippine art. For inquiries, please call (632) 4144777 or write info@kaidagallery.com.