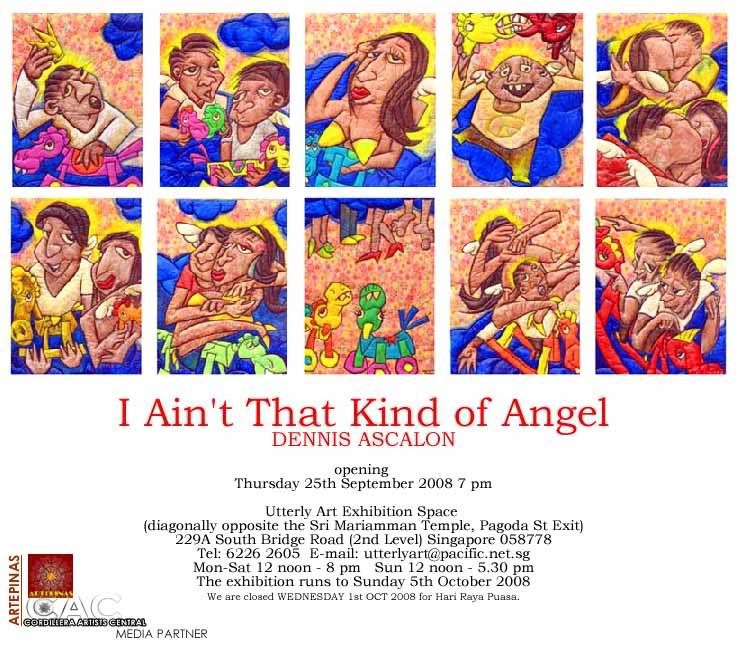 I Ain't That Kind of Angel
DENNIS ASCALON
opening
Thursday 25th September 2008 7 pm
Utterly Art Exhibition Space
(diagonally opposite the Sri Mariamman Temple, Pagoda St Exit)
229A South Bridge Road (2nd Level) Singapore 058778
Tel: 6226 2605 E-mail:
utterlyart@pacific.net.sg
Mon-Sat 12 noon - 8 pm Sun 12 noon - 5.30 pm
The exhibition runs to Sunday 5th October 2008
We are closed Wednesday 1st October 2008 for Hari Raya Puasa.
Artist's statement: In this collection of alternative mixed media works using the sewn lines of embossed quilting, the predominant images are the angels and the toys they are riding. The angels represent the substance of humanity and the toy rocking horses stand for the nature of humanity's weaknesses in the face of materialism, differing realities and carnal passions. The works find their names in horse talk because all of these expressions of human nature are basically just a trip… and our choices of rides.
It is a satire on the sensibilities of people, given our notion of good as represented in our versions of religion. The stories that I get are stories that I have been exposed to in a life clothed and unclothed by my community's practice of religion.
This is a social argument on the normal things people do wherein a high premium is given on options. We can always justify the choices that we make. I see that this is how it will always be with people, given the dictates of sexuality and ambition.
Well then, my angels are not your usual church-going angels.
Dennis Ascalon (b. 1960, Iloilo City) graduated from the University of the Philippines in the Visayas, Iloilo, and from La Consolacion College, School of Architecture and Fine Arts, Bacolod. A member of the Black Artists in Asia, he was also an executive council member for visual arts for the National Commission for Culture and the Arts for the Visayas (2001-2004). He has been collected by the Singapore Art Museum, and has exhibited in the Philippines, South Korea, Japan, Hong Kong, Singapore and Australia, but this will be his first solo exhibition overseas.