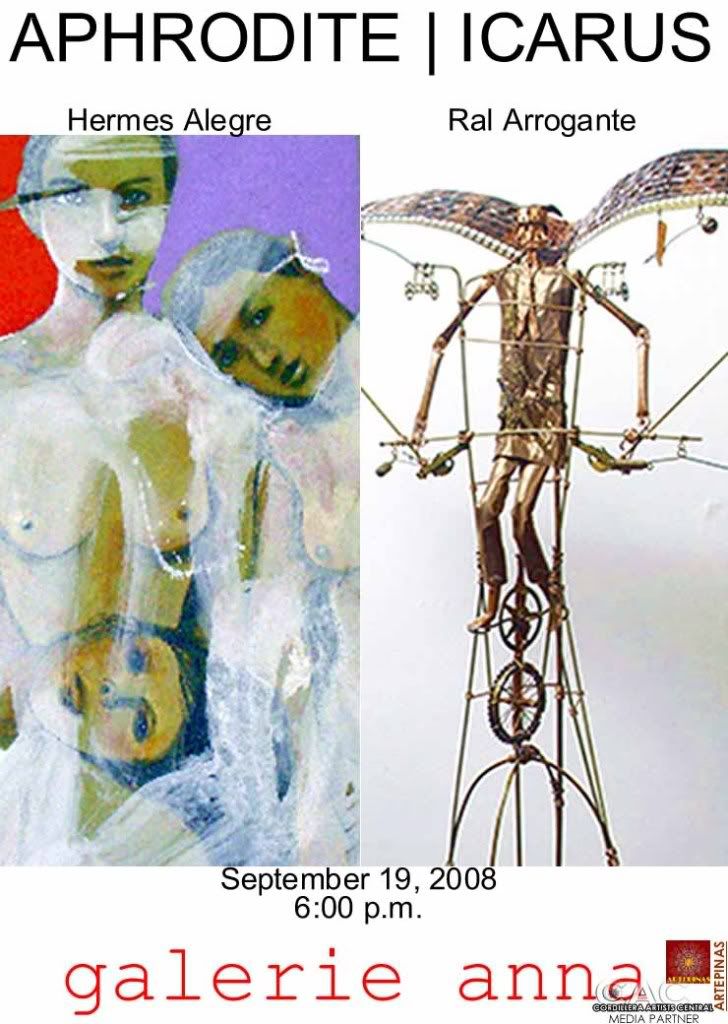 Galerie Anna proudly presents the two man-exhibition of Hermes Alegre and Ral Arrogante titled "AphroditeIcarus" on Friday, September 19, 2008. The exhibition will run until October 3, 2008.

The title takes on Greek mythological personalities to describe the individual showcase of both artists. Aphrodite, the goddess of love, beauty, of sexual desire, eroticism, and female power as characterized by the women of Hermes Alegre. On the other hand, Icarus, the winged male form, symbol of youth, virility and heroic audacity, is embodied in the "scrapological" sculptural pieces of sculptor Ral Arrogante.

Hermes Alegre is a celebrated portraitist, painter of Filipina beauty, and follower of the modern figurative tradition in Philippine Art in the footsteps of Vicente Manansala, Cesar Legaspi, and Benedicto Cabrera. Ral Arrogante is a sculptor who believes in the value of recycled brass as an ecological and yet long-lasting artistic statement on the need to conserve our resources, and maximize the possibilities of material through the unlimited potential of the mind to convert and transform the ordinary into the timeless. Arrogante is also currently the President of the Society for Philippine Sculptors (SPS).

Galerie Anna is located on the 7th Floor, Ramon Magsaysay Center, Roxas Boulevard, Manila, beside Manila Diamond Hotel. For details and inquiries, please call Joffrey Baylon at Tel. # (02) 567-94-83, or mobile # 0927-462-7567. You may also visit Galerie Anna online at www.galerieanna.com.