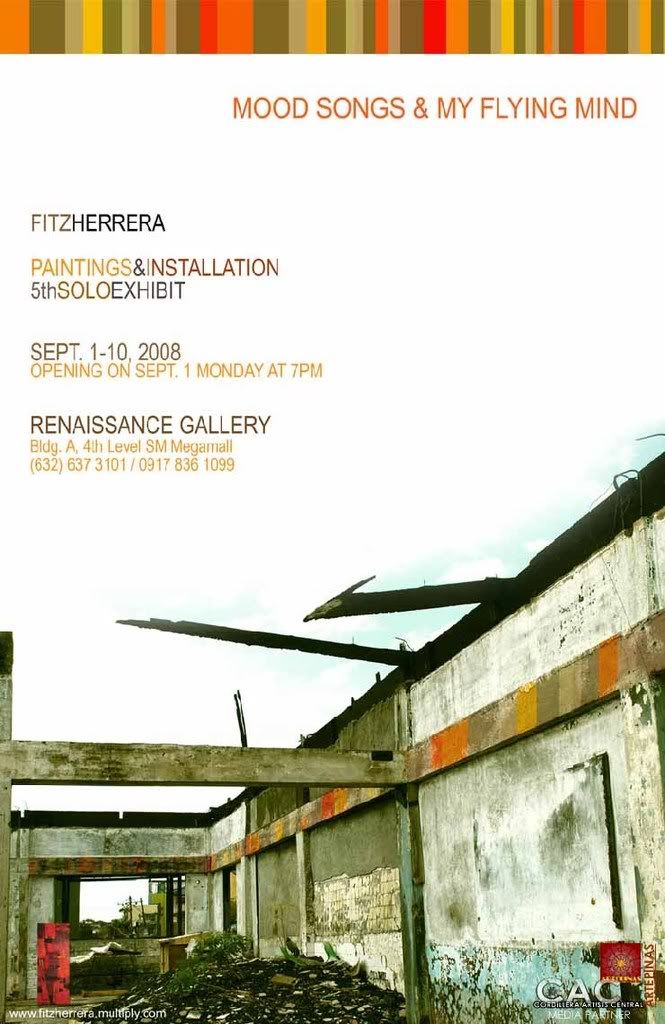 ''Mood Songs & My Flying Mind'' (No music, no show)
by Sidd Perez ( Ateneo Art Gallery)

More than anything, non-representational works capture a suspension in time. Indiscernible elements nurse abstract experiences – anything that humanity wants to give meaning to in ways other than through language or tangible, deductive structures. The structure that Fitz Herrera finds comfort in allows a human experience that moves around in more flexible terms. MOOD SONGS & MY FLYING MIND is a play on rigidity as well as fluidity – rebellious lines that contain, and solid colors that rub off into nebulous wholes.

Herrera provides a site where music and visual language mingle and weave into the nuances of their respective intuitive nature. Both operate on the experiential level – there is a vast, neutral space to be subjective at the same time they are bound by causal structures. In this case, MOOD SONGS & MY FLYING MIND is borne out of and provides unstructured languages – music and visual arts – but in the direction of joie de vivre. As a musically-inclined individual, Herrera creates works of art after musical compositions: Amber and Sweet being songs from 311, Breath and Right Here by Bliss, Humble Me and Those Sweet Words by Norah Jones, King Without a Crown by Matisyahu, The Doves Return by Aine Minogue and Yellow by Coldplay. The painting versions have become naturally easygoing pieces as Herrera moves with the upbeat and soulful melodies of the songs.

Tracing his practice, Herrera has moved from rigid boxes of colors to thick and sensuous swirls of paint. MOOD SONGS & MY FLYING MIND becomes a site where he reconciles his preference for lines and carefree colors. Lines that slackened at his previous shows make their appearance again – although not as deterministic and fierce or flaccid and wobbly. They have become off-angled lines tracing infinity in the form of chirpy hues and raincloud-blots that litter each frame with slight splatters. The adeptness with color is inherent in every work of Herrera, and it is his gift to turn even the most saturated or neutral of hues into a happy sage that uplifts all meandering souls. Additions to his body of works are installation pieces of found objects – both of which allude to thoughtful thoughtlessness and the artist's inspiration from music. MOOD SONGS refer to his series of paintings while MY FLYING MIND points to his installation art.

MOOD SONGS & MY FLYING MIND is Fitz Herrera's fifth solo show. He has consistently produced non-representational art shining with upbeat serenity. He is skilful in combining flexible elements, in this case, such as music and paint – always those with lyrical, freewheeling themes. The real value that he offers is one of optimism, and freedom to move about as well as to stay in limbo. One of his signature elements is composed of multi-colored vertical rows indicating his positive outlook in life. Manifested in his works, Herrera's hopeful nature pulsates in luminous fashion and has touched many collectors, artists and curious.