roundeyeglass@ten02a benefit concert for Norli Lalo
7 pm onwards September 4, 2008
ten02 Sct Ybardolaza St cor Timog QC

ticket price: P 250
Donations will be accepted at the gate.
Paintings will be welcome for future auction.
Norli is the former director of SBX on channel 23. He is known in the indie film circuit as a production designer and later as Director of Photography. In the early period of his career he had some production work in theatre with PETA. In the field of visual arts he had his first one man show in Avellana Art Gallery and active in contributing works in various group shows. He is also known as an active mountaineer associated with the Malacanang Outdoor Group. He represented the Philippines in 2004 Kampnagel Summer Art Festival as a performance artist with the group neworldisorder. He established the defunct artist hang out in Malate, Round Eye Glass Café and transformed the backyard of his house into an alternative space called sulok, which accommodates occasional activities on cross disciplinary arts. Norli on his 34th birthday was diagnosed with Multiple Myeloma, a malignant tumor of the bone marrow. The funds will be use for his hospital expenses.



Monetary donations can send to this account
Norlito T. Lalo ~ Banco De Oro Kalentong Branch ~ Account # 210213078
Mobile +63915 999726

Hot line:

Ivy Suncell +639233898459
Globe +639175603312
Smart +639096795688
ivygandatlg@yahoo.com
Tarik Montano +639206547305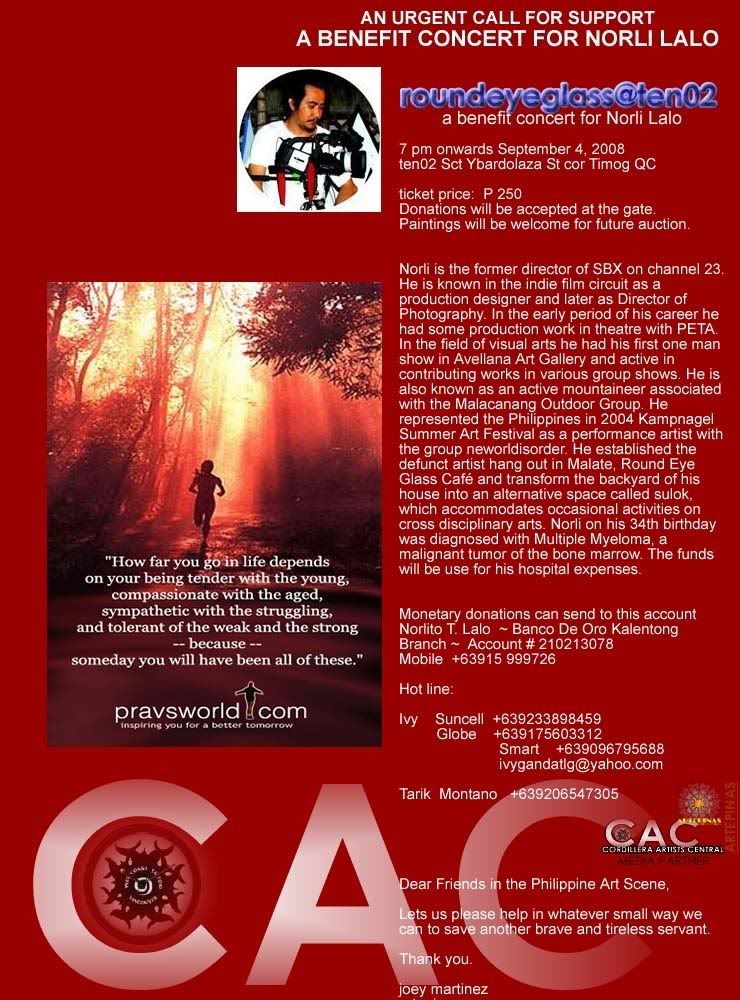 Norli Lalo needs blood and financial assistance. He was rushed to the National Kidney Institute, East Ave., Q.C. early this morning (29 August 2008) due to complications caused by his illness.

I appeal to all his friends, colleagues, and all good souls to please extend your hands to Norli. You can help in several ways.

(1) If you are willing to donate blood (any blood type will do), please go to the Blood Donor's Section of the National Kidney Institute in East Ave., Q.C. Blood letting is from 8 am to 5 pm only. Please bring an ID and specify that your donation is for NORLITO LALO. You may also coordinate with TARIK at 0920-654-7305.

(2) If you intend to donate artworks that his family can sell to help finance the hospital bills, you may drop them off at TEN02 Bar and Resto in Sct. Ybardollaza cor Timog Ave., Q.C. look for SKARLET or MARBEN.

(3) If you wish to donate money, you can deposit any amount to the following accounts:
Norlito T. Lalo
Account # 210213078
Banco De Oro, Kalentong Branch
Christina G. Rodriguez (Norli's wife)
Account # 3833383260192
Metrobank, Batangas Branch

(4) If you want to volunteer, you can help in hooking us up with possible blood donors, art patrons/buyers.

(5) You can also help by supporting the gig on September 4, 2008 tickets are priced at P250.xx only. All his musician friends are performing. Proceeds will go to Norli and his family.

Before his illness, Norli was directing for a TV network. He also did some production work in Theatre with PETA. He established Round Eye Glass Cafe, the defunct artist hang out in Malate. He also converted the backyard of his house in Mandaluyong into an alternative space called SULOK. Norli, on his 34th birthday, was diagnosed with Multiple Myeloma, a malignant tumor of the bone marrow. Please let us all help him.